Our experienced silicon team can deliver a turn-key ASIC design – from specification through to working silicon. We can also provide specialist consultants to supplement your  own engineering team to address the technical and time-to-market challenges of today's ASIC designs

eSi-RISC is a highly configurable microprocessor architecture for embedded systems across a wide range of applications and market sectors.  Together with our portfolio of connectivity and cryptographic IP we can provide the key building blocks for your next project.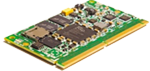 Combining our expertise in hardware design, embedded software and FPGA/ASIC development we can help you deliver highly competitive electronic products in markets including automotive, industrial and medical.

19 June 2015 – EnSilica have announced a new Sales partnership with WeGoes Co Ltd, headquartered in Bundang, Korea. WeGoes will help EnSilica to grow further its expanding customer footprint within the region. WeGoes will be offering the full range of EnSilica IPs to customers within Korea including eSi-RISC (16/32 bit embedded processor) , eSi-Crypto, eSi-Comms and eSi-Connect IPs. WeGoes will also help EnSilica to expand its design service activities within the country.
4 June 2015 – New eSi-32X0MP processor targets low-power WiFi, LTE Cat-0 and other IoT wireless standards as well as intelligent sensor applications requiring high performance and low power in a small footprint.
EnSilica was founded in 2001 and has a strong track record of success in delivering semiconductor IP and providing ASIC and FPGA design services to semiconductor companies and OEMs worldwide. The company is a specialist in low-power ASIC design and complex FPGA-based embedded systems, including hardware and embedded software development.
Our portfolio of IP includes eSi-RISC, a highly configurable 16/32 bit embedded processor and families of IP covering communications, processor peripherals and encryption